Case Study: Grossbart, Portney & Rosenberg, Consumer Bankruptcy Firm, Baltimore, Maryland
Almost six years ago we started working with this law firm to extend its reach and target market area from Baltimore City and its suburbs to the rest of Maryland using the Internet as a platform for delivery. Robert Grossbart had already developed a reputation as a consumer bankruptcy lawyer. He was known by the judges in both Maryland bankruptcy courts as a competent practitioner who started practicing bankruptcy law in 1987, so he had 19 years of practice experience before he started working with DirectLaw.
He had contributed his time to community organizations as a pro bono contributor and played a role in mentoring younger lawyers who were just entering bankruptcy practice. At the time we entered into a relationship with his firm, the primary means of marketing was Yellow Page advertising and radio ads. Robert was looking for a way to get a better ROI from his advertising and to expand the reach of his law firm and increase his market share against other competing law firms.
We created a web site that incorporated features to make it search engine friendly, including selecting the domain name: MDBANKRUPCYLAW.COM. We incorporated an early version of our DirectLaw virtual law firm technology which enabled clients to check on the progress of their case; collaborate and communicate with the Grossbart team online, check on critical scheduling dates, and access other online tools such as a Chapter 13 eligibility calculator. We refocused the marketing on the Internet, using both search engine optimization techniques and Google and Yahoo Pay Per Click campaigns.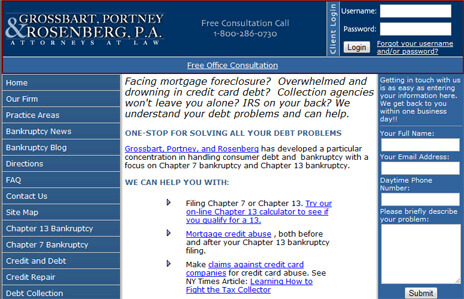 The end result was an expansion of the reach of the firm to the Washington suburbs, minimizing the Yellow Page advertising program and dropping almost all of the radio advertising. The client base became more diversified from a Baltimore inner city clientele to professionals in the Washington, D.C. suburbs with technical backgrounds who liked the idea of an Internet gateway to the law firm. Every client was still required to come to at least one face-to face office meeting in Baltimore, but all other business could be conducted over the Internet. Today a large percentage of the firm's business is derived from the Internet.
This is also the kind of practice that ordinarily doesn't result in repeat business, but because of the loyalty that an Internet connection can engender, the firm is now building a new practice area in foreclosure defense, credit card abuse, and post-bankruptcy discharge abuses from creditors. If you do a Google search on the term: Maryland Bankruptcy Lawyer, the firm comes up #1 on the first page. The firm continues to add new content to its site in order to maintain its good ranking in the search engines.
"DirectLaw has enabled me to expand my practice throughout the state of Maryland and reduce my marketing costs by focusing my advertising efforts online. DirectLaw reduces telephone tag and enables my clients to understand clearly the progress of their case and what they are required to bring to the Bankruptcy Trustee hearing, without constant reminders from me. The DirectLaw platform has become an essential component of the work flow of my practice."

Robert Grossbart, Managing Partner, Grossbart, Portney, & Rosenberg.