Sell Legal Document Review Services
Your DirectLaw™ Virtual Law Firm Platform enables you to also offer a Legal Document Review Service. This interactive service is priced on a case-by-case basis. Use this functionality to review a previously prepared document for a fee.
Example: A client has existing will documents prepared by another attorney and/or purchased from an online legal forms company. The client's situation has changed and (s)he is seeking legal advice to determine if the will is still valid or if changes are warranted.
After registering for the Legal Document Review Service, the client uploads their existing document to the firm via. If the document is not available in electronic format, the client could also fax the document for review. In either case, the purchase of the Legal Document Review Service may be made via online purchase.
Use your DirectLaw™ interactive communication tools on the Attorney Dashboard to upload a revised version of the legal document and/or provide feedback through the client's MyLegalAffairs™ web space.
<![if !vml]>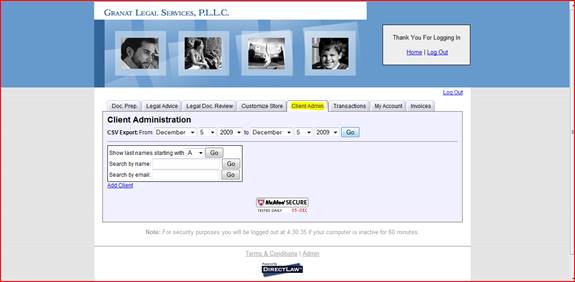 <![endif]>